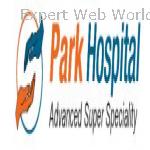 Park Group of Hospitals
Contact Number: +91-7503141435

If number is not correct inform us.
Address: Q Block, South City 2, Sohna Road, Main Sec-47, Gurgaon, Haryana,India

Gurugram
Haryana
India
122002
Website:

Phone: +91-7503141435

Posted Date : 31-03-2021


About Park Group of Hospitals :
About Us

In 1982, Dr. Ajit Gupta, Chairman, Park Group of Hospitals, envisaged the group to be a collection of medical services and facilities with commitment and compassion to deliver high quality patient-centric healthcare.

This journey of social responsibility started with the establishment of the first

Hospital in Malviya Nagar, South Delhi.



The first patient was admitted in 1982 in the 50 bedded hospital. As the good word spread far and wide of the relentless efforts of Dr. Gupta, the hospital grew exponentially with number of patients increasing tremendously.

Consequently, asignificant demand for new facilities in the city rose to a crescendo that led to an expansion to the hospital in 1984, with additional beds and multi-super specialties.

The response of people was an inspiration for Dr. Gupta to focus on forming a chain of healthcare entities that can deliver high-end services in line with international standards in quality and services. There has been no looking back since then.



Our Services
Cardiac Surgery

Park Hospital is renowned as one of the best heart surgery hospitals in Delhi, Gurgaon, Faridabad, Karnal, Ambala & Panipat providing complete surgical care services using the most advanced technologies by an expert team of cardiac Surgeons.



Interventional Cardiology

Being the best Cardiology Hospital, our Department of Cardiac Sciences provides the best heart treatment in Delhi, Gurgaon, Faridabad, Karnal, Ambala & Panipat.

Our Cardiology department aims to provide the best possible, comprehensive and multidisciplinary heart treatment backed with best Cardiologists available round the clock. Equipped with State -of – the – HEART- technology for all types of procedures.


Cancer Care Center

We are one of the best Cancer care

Hospitals in Delhi, Gurgaon, Faridabad, Karnal, Ambala, and Panipat

striving to render affordable cancer treatment in India.

We provide Comprehensive cancer care with the best treatment facilities in India with state of the art infrastructure, experts in Surgical Oncology, Radiation Oncology, and Medical Oncology.
don't forget to mention that you found this ad on Expert Web World Directory Website.
---